LMS Route: Trent Valley Line
LMS Route: Nuneaton to Leamington
Nuneaton Station: lnwrns1643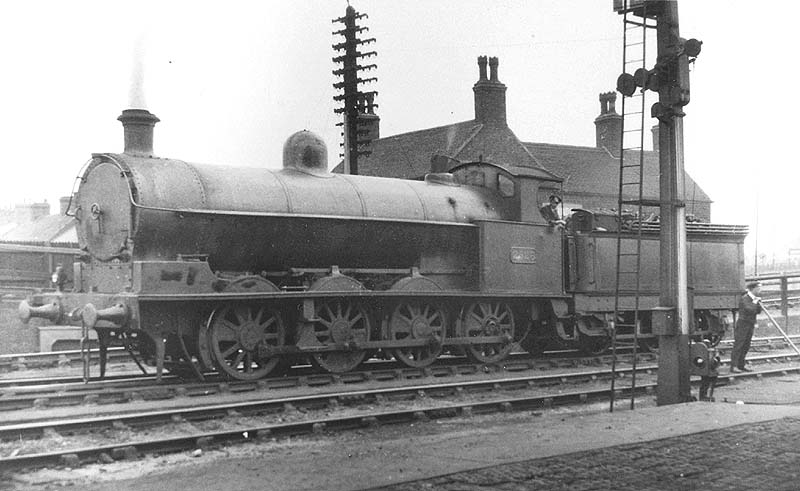 Ex-LNWR 0-8-0 7F No 2526 is seen light engine alongside the hump at Nuneaton's up marshalling yard during shunting duties in the mid-1920s. Philip Millard writes, Locomotive No 2526 was built in November 1894 as a Class A three-cylinder compound (the third member of the class). It was rebuilt as a Class D two-cylinder simple in March 1908 and is seen in this condition in the above photo and being later rebuilt as a Class G1 and numbered by the LMS as No 9043 in February 1928. Subsequently it received a Belpaire firebox boiler in December 1935 and was renumbered by British Railways as No 49043 in May 1948 before it was withdrawn in September 1949. In 1945 this engine was assigned to shed 9B Stockport. Ted Talbot subsequently wrote The photograph shows the engine as rebuilt from a three-cylinder compound of class A to a two-cylinder simple with a large boiler of class D. Classes C and C1 were rebuilds to two-cylinder simple with the original boilers. All these classes were unsuperheated. Only when the engines were rebuilt with superheated boilers and piston-valve cylinders were they classified G1. In LNWR days engines were not as a rule allocated to a shed permanently and usually went to different shed after a visit to works.
Known allocations of 2526 as a D class are: shed 33, Swansea, in 1912 and shed 17, Farnley and Wortley, in October 1917. A copy of the LMS document Renumbering of Locomotive Stock, believed to be dated late 1926, gives the LNWR number with the LMS number printed alongside it; someone has written beside the numbers the depot to which each engine was allocated: 2526 is shown as 9043, shed 4, Nuneaton. Early in 1928 the LMS introduced its block allocation system whereby engines were allocated to sheds in blocks of numbers. A copy of this list by C. Williams states that the list for tender engines was issued on 28th January and that for tank engines on 22nd February. But 9043 does not appear in the list, either under class D or under class G1.
This omission can perhaps be explained by the fact that the engine was in Crewe Works at the time undergoing conversion to class G1. No engines of class D were allocated to Nuneaton in the block allocation, so quite possibly it had simply not been decided which shed 9043 was to go to once the conversion had been completed. In 1933 9043 was at Bletchley and in 1945 at Stockport. After "London & North Western Railway Eight-Coupled Goods Engines" was published, many people wrote to me with additional information, corrections and recollections. From these I compiled a Postscript, which I would be happy to send to anyone who sends me an e-mail – talbot186@btinternet.com.

back