LMS Route: Trent Valley Line
Shilton Station: lnwr_shil1098a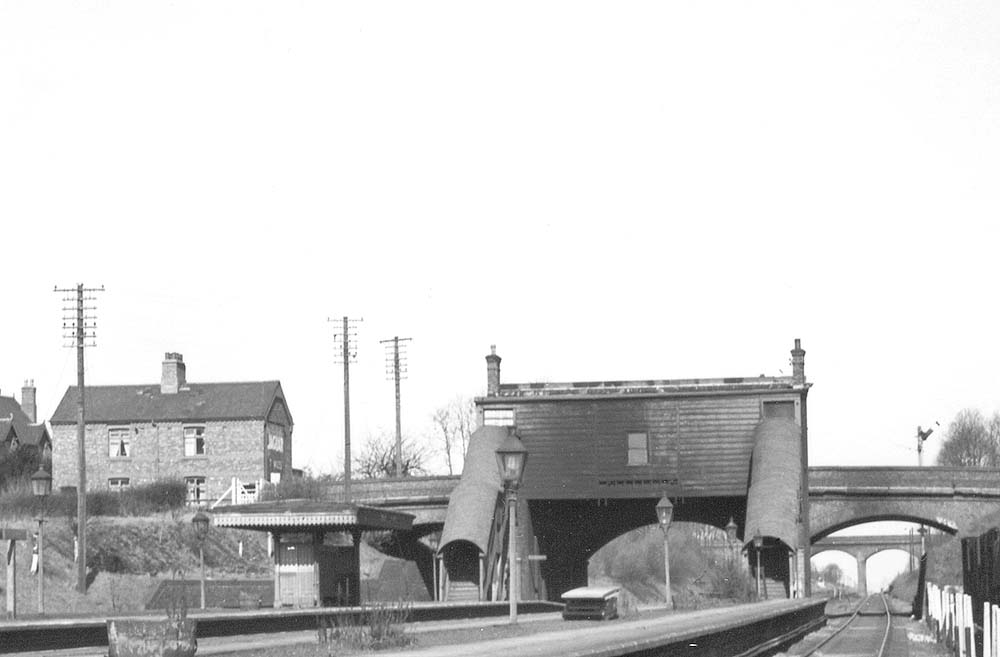 This close up of image "lnwr_shil1098" shows the main station building over the up and down fast tracks with the passenger waiting room on the down platform. On the right the signal is in the 'off' position and the train being given permission to proceed can just be seen as an extremely small dot on the horizon above the track. The road bridge that the station building 'fronted' on to was however constructed of brick and therefore had arches rather than the steel girder construction of Brinklow's road bridge. Therefore to quickly identify whether you are looking at Brinklow or Shilton just look at the opening under the station building. If its square its Brinklow, if arched then its Shilton. Reg Kimber recalls this station from his schoolboy days. He writes, "The dot on the horizon on the left and the end of the up slow was a small signal box which apparently existed to control the down loop. The box is hidden by trains on the photographs showing up trains approaching Shilton. I got involved with the box when at school in about 1950. In those days we had Tuesday and Thursday afternoons off and worked Saturdays until 1:00pm."
"One Tuesday or Thursday afternoon a gang of us were at Shilton on the Barnacle Lane bridge and two lads ventured along the embankment end entered the box which was presumed out of use as some of the windows were broken. The lads pulled levers with gay abandon until a bell started clanging in the box. I was watching from a distance and no one did anything until we saw a figure walking along the track towards us. It was obviously the signalman from the box south of the station. We all scarpered. Next morning at assembly an announcement was made that all boys who were at Shilton the day before should report to the headmaster's office. The police were there. Apparently at least two trains had been stopped by the caper. The two lads were expelled. The rest of us were given a severe lecture. Incidentally I only ever saw the down loop used once in my hundreds of visits.. The new diesel locomotive No 10000 pulled into the loop with a hot box on a fitted freight from Willesden. We ventured along the bank to have a closer look and we were invited into the cab by the driver. To this day that is the only diesel or electric which I have ever cabbed."
Subsequent to writing the above caption, John Hyde of Steam Archive was kind enough to supply photographs showing the original signal box and a newly erected asbestos 'shed' has appeared at the end of the down goods loop.

back