LMS Period Locomotives: lnwrbns_lms482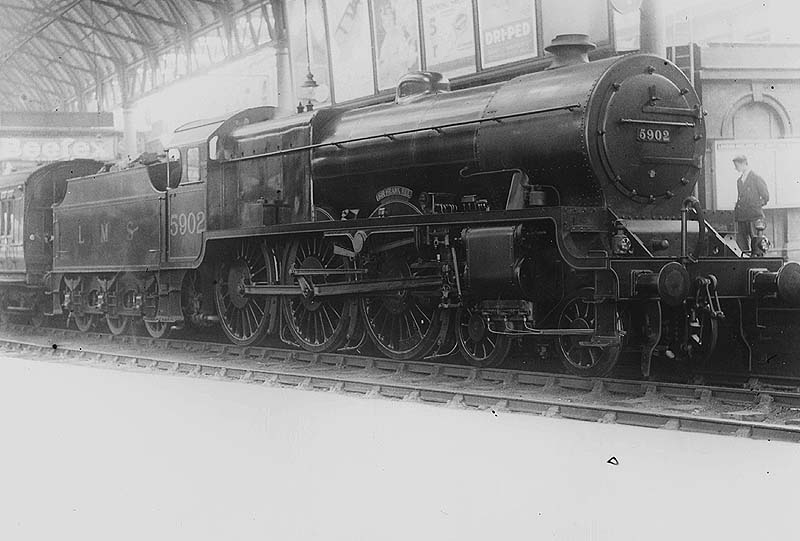 LMS 5XP 4-6-0 Patriot class No 5902 'Sir Frank Ree' is seen standing at the West end of Platform 3 whilst at the head of a down express service. Originally built at Crewe works by the LNWR as No 1191, a 4-6-0 Claughton class locomotive in May 1913, No 5902 was rebuilt as a Patriot class locomotive by Derby works in November 1930 and was later renumbered No 5501 by the LMS as part of their overhaul of the LMS' locomotive running numbers. The locomotive is seen in its 'as first built' form without smoke deflectors fitted to either side of the smokebox which gave the class a distinctly powerful look. Smoke deflectors were required because at certain speeds and in certain types of weather conditions, smoke from the chimney could drift alongside the smokebox and obscure the driver's vision. This was the second of the class to be 'rebuilt' and contained very little of the original Claughton locomotive although the large centre bossed driving wheels and double radial bogie truck were retained.
Essentially No 5902 in its Patriot form was a new locomotive combining the new Royal Scot class chassis with the large boiler fitted by the LMS to the Claughton's in an attempt to resolve poor steaming and high maintenance. In 1937, for reasons not known to the author, the name 'Sir Frank Ree' was transferred to LMS 4-6-0 Patriot class No 5530 (a new build locomotive out-shopped in April 1933) and the name of St Dunstans was applied. This name change preceded the locomotive being rebuilt again in 1946 with Stanier's 2A boiler as part of the LMS' plan to rebuild all of Fowler's parallel boilered classes when their boilers were life expired. It was therefore in the form of this third incarnation that No 5902, renumbered by the LMS as No 5501 and then renumbered again by British Railways as No 45501, was withdrawn from service in September 1961 from Upperby shed in Carlisle to be scrapped by Crewe works.
All of the Royal Scot class and eighteen of the one-hundred and ninety-one Patriot class locomotives were rebuilt with the Stanier 2A boiler, with the Patriots also acquiring a Stanier cab and high-sided 5000 gallon tender. Visually the new rebuilt Patriot class looked identical to the only two Jubilee class locomotives so rebuilt, No 5735 'Comet' and No 5736 'Pheonix', which were first fitted with the 2A boiler in 1941 as an experiment. The Royal Scot class however retained their Fowler cab so were easily distinguishable from the Patriot and Jubilee class locomotives. See 'lnwrbns_lms485' to see a Patriot class locomotive fitted with the 2A bolier.

back