LMS Route: Rugby to Wolverhampton
LMS Route: Rugby to Leamington
LMS Route: Rugby to Tamworth
LMS Route: Rugby to Leicester
LMS Route: Rugby to Market Harborough

Rugby Shed: lnwrrm2609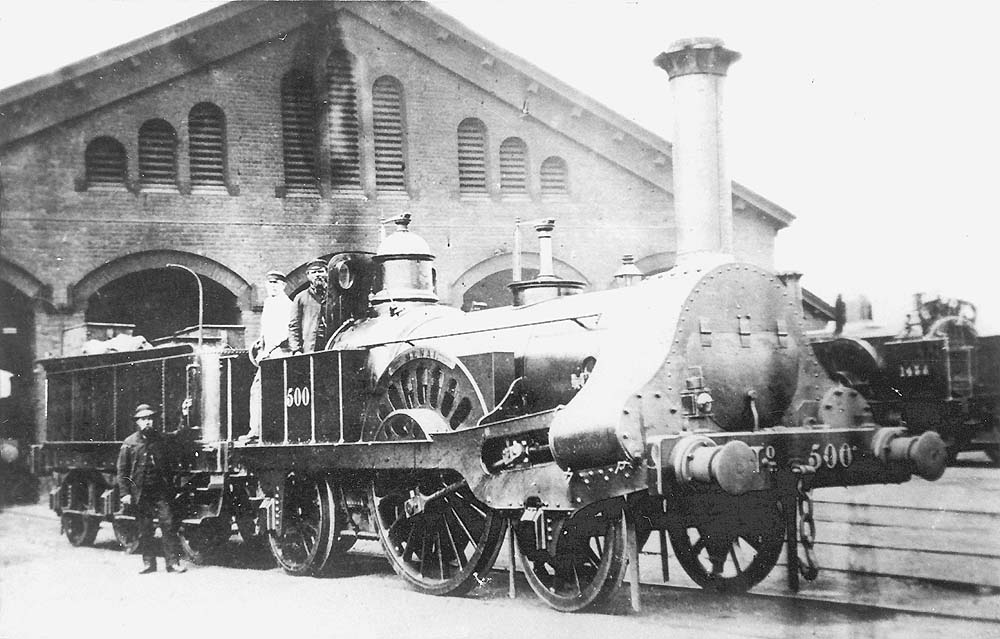 LNWR locomotives 'Old Crewe' 2-2-2 No 500 'Menai' and 2-2-2 No 1435 'Fortuna' are seen standing outside Rugby shed. Looking through the four road shed behind the tender some light can be seen, through a door way and through slats of the louvered ventilator, which would indicate the shed was of a short straight design. This means that with the small extension on the right, the shed had five roads in total which match the features found on the 1863 plan and therefore we can confidently assume that No 500 No 1435 'Fortuna' is standing at the east end of Rugby shed. Just out of view in this version of the photograph was No 847, a 'Southern Division' locomotive whilst the other two are 'Northern Division' locomotives. The photograph is thought to gave been taken circa 1870 and whereas it had been initially suggested as being taken at Stafford, where the LNWR's Northern¹ and Southern Division¹ locomotives could be seen in each others company, it is now thought to be Rugby. Rugby was another location where both Divisions' locomotives could be seen being serviced prior to returning to their respective home sheds.
¹ On 16th July 1846 the principal railway companies operating the routes between Liverpool to Manchester Railway, Liverpool & Manchester to Birmingham (via Crewe), and Birmingham to London formed the LNWR. Inevitably such an amalgamation created conflicts between the former railway companies and initially they operated very much as they did when they were independent but under the auspices of being a North East Division, Northern Division and Southern division. Their eventual consolidation saw initially the North East Division being absorbed into the Northern Division in 1857. This resulted in its locomotive works at Longsight being closed and all such work moved to Crewe. The Southern Division, still centred its locomotive and carriage construction at Wolverton. In 1862 the two Divisions' locomotive departments were merged into one based at Crewe whilst for most other areas of railway operation things remained as before.
The above information, together with the information contained in the captions of the other images of Rugby's early sheds, is derived from an article by Harry Jack.

back