LMS Route: Rugby to Wolverhampton
LMS Route: Nuneaton to Leamington
Coventry Station: lnwrcov3770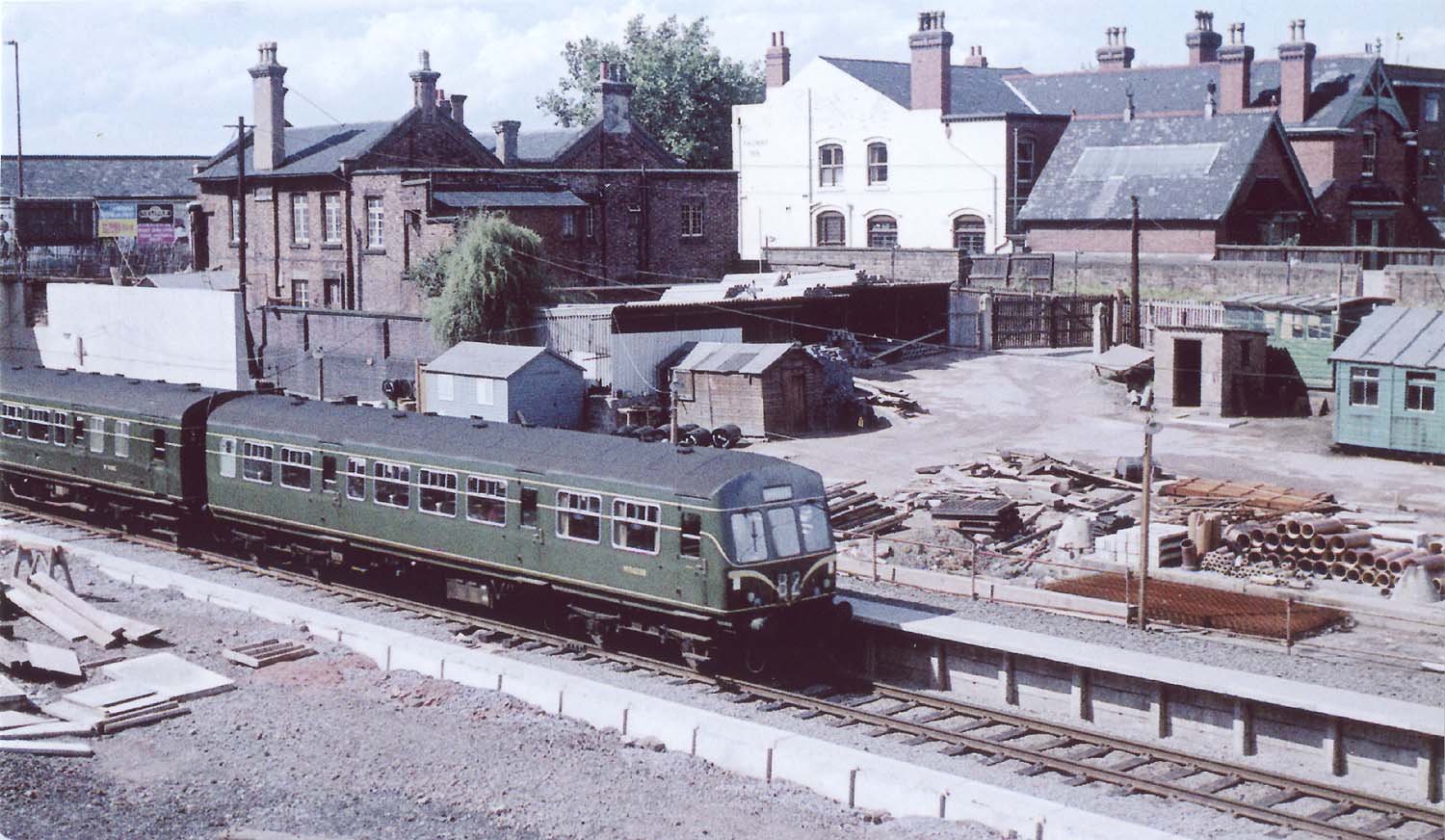 A two-car Metro-Cammell Diesel Multiple Unit arrives at Platform One on the 15:05 Nuneaton to Leamington service on 4th August 1961. Later categorised under TOPS as Class 101 DMUs, they were built by Metro-Cammell at Washwood Heath in Birmingham from 1956 to 1959. This followed the successful testing of a series of prototype units. This class proved to be one of the most successful and longest-lived of BR's First Generation DMUs, second in age only to the Class 121, with the final five units being withdrawn on 24 December 2003, the oldest set by then, just over 47 years old. Vehicles were originally turned out mainly in DMU Green with three cream bands, one at the bottom edge of the body, the second cutting a line through the window frames at the base of quarterlights, sweeping down at the cab front corners to form a waist height line below the cab windows. The third band was placed above window level. Speed whiskers were not originally carried on the earlier deliveries but appeared in time.
Later repaints saw some sets appear in the more traditional style of lining, with two bands of cream, one broader band at waist height and the other narrower band just above window level. When new the British Railways lion on wheel symbol was carried amidships on power cars only, this later giving way to the neater British Railways roundel, again on power cars only. Vehicles from 50192 were delivered with a blue square coupling code on the cab front which was soon extended to others of the class. As with other units, the early 1960s saw the introduction of the small yellow warning panel below the cab windows in place of the whiskers, a practical step towards greater safety. From 1967 vehicles started to appear in the newly introduced Rail Blue livery with full yellow ends, the plain blue bodysides were greatly enhanced by the polished aluminium window frames. However some sets initially received one of two short lived variations, one having only a small yellow warning panel below the cab windows, red buffer beam and umber brown frames and bogies. The BR logo was on the cab door and smaller than usual numbering. The other involved much more yellow, covering whole the cab front and the cab doors.
This photograph is displayed courtesy of the RCTS (Railway Correspondence and Travel Society) and copies can be ordered directly from them using the link here. Please quote MM00229C.

back