BR Period Locomotives: lnwrbns_br3319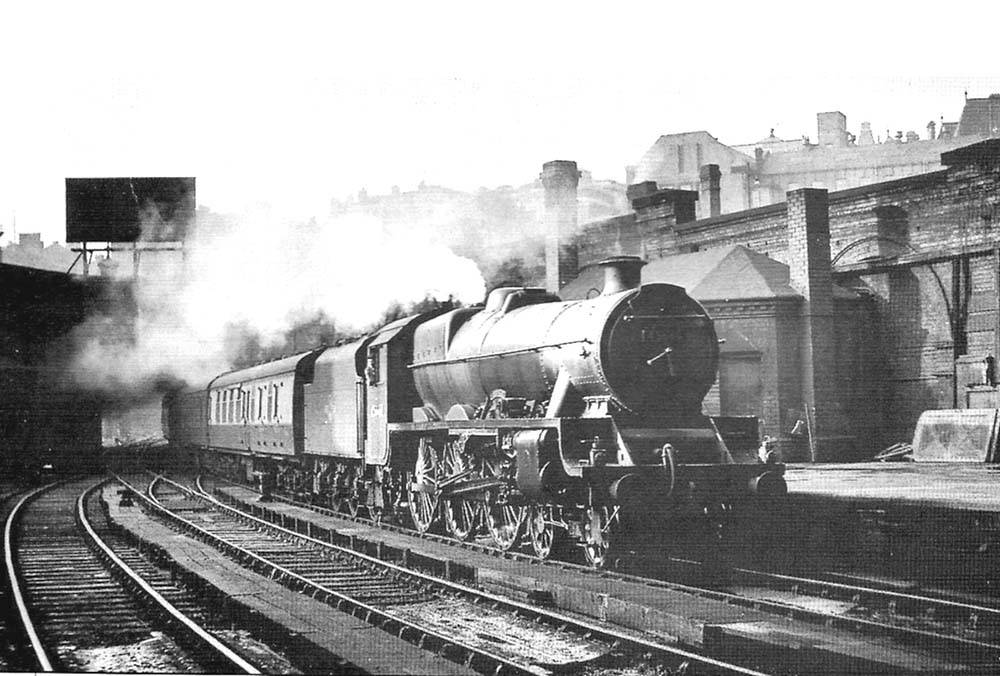 Ex-LMS 5XP 4-6-0 No 45660 'Rooke' heads the up Devonian into platform 7 on 8th February 1958. Built in July 1934 as LMS No 5660 by the North British Locomotive Company of Glasgow, this Jubilee Class locomotive received its British Railways number in August 1948 which it retained until November 1963 when it was withdrawn from 5A Crewe North shed for scrapping. The up Devonian starts its daily journey at Paignton at 9:15 am, reaching Bristol, 104 miles away, at 12:11 pm. The running over the LMS line is, for a cross-country journey, very fast, and includes a mile-a-minute booking, the thirty-one miles from Cheltenham to Bromsgrove (where a service stop is made to attach the 'banker' for the ascent of the Lickey Incline) being allowed only thirty-one minutes start-to-stop. Leeds is reached at 5:24 pm, after a run of four hours forty-nine minutes from Bristol, and Bradford at 5:56 pm, eight hours forty-one minutes after leaving Paignton. A distinction of the 'Devonian,' other than speed, is that of connecting five such important centres of population as Bradford, Leeds, Sheffield, Birmingham, and Bristol with one through service.
In the down direction, between Leeds, Sheffield, Derby, Birmingham, and Bristol, the 'Devonian' is the fastest train of the day. It begins its journey in Forster Square Station at Bradford at 10:25 am, makes the short run into the Wellington Station at Leeds, and is there reversed. Notwithstanding some severe gradients, especially between Sheffield and Chesterfield, Birmingham and Bromsgrove, and Gloucester and Bristol, and stops at Sheffield, Derby, Birmingham, Cheltenham, and Gloucester, the 'Devonian' covers the 206 miles from Leeds to Bristol in the excellent time of four hours forty minutes, arriving in Temple Meads Station at 3:32 pm. At Bristol the Great Western Railway takes charge, and some leisurely progress follows over the remainder of the course to Exeter, Torquay, Paignton, and Kingswear, which is reached at 7:19 pm. The entire journey of 330 miles from Bradford to Kingswear has thus occupied six minutes under nine hours.

back