LMS Route: Nuneaton to Leamington
Bedworth Station: lnwrb3268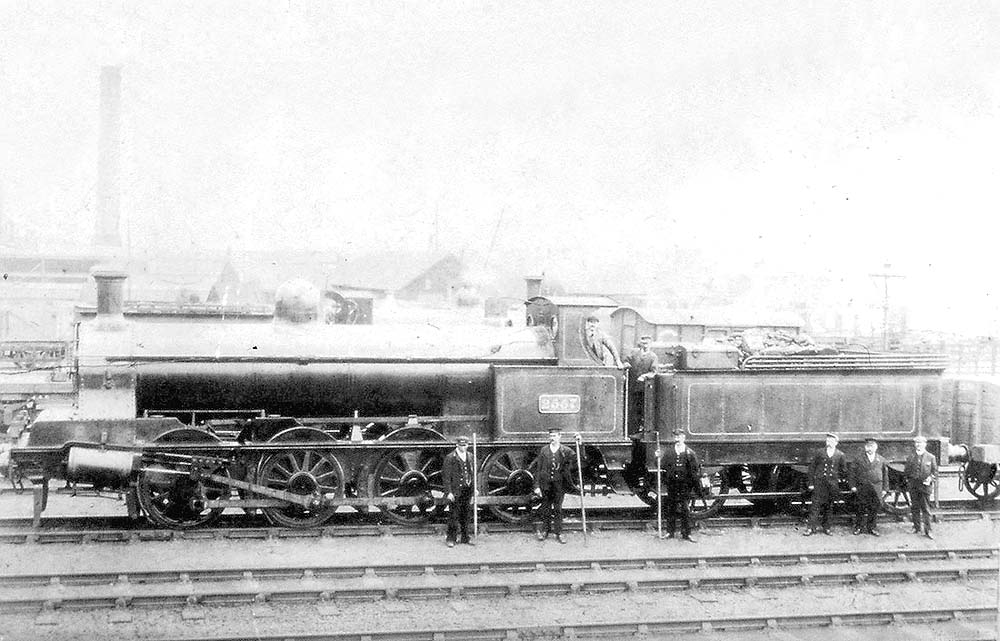 LNWR Webb 0-8-0 'B' four-cylinder Compound No 2557 is seen posed with shunters and other yard staff in Bedworth station's goods yard. Designed by FW Webb, this was a class of 0-8-0 steam locomotives introduced by the LNWR in 1901 and were a four-cylinder development of the Class 'A' three-cylinder compound (although this letter classification was not introduced until 1911). At first, the running board stopped either side of the cylinder but was soon made continuous. In total there were one hundred and seventy locomotives built at Crewe between 1901 and 1904 with: twenty-six being rebuilt as Class 'E' locomotives between 1904 and 1908; ten rebuilt a Class 'F' locomotives between 1906 and 1908; thirty-two rebuilt as Class G locomotives between 1906 and 1917; ninety-one rebuilt as Class G1 locomotives between 1917 and 1927; and with eleven locomotives being scrapped in original condition between 1921 and 1928. Built by Crewe works in August 1902, No 2557 was rebuilt in July 1924 as G1 class and renumbered by the LMS as No 8913 which it retained until August 1948 when it was withdrawn from 5C Stafford shed to be scrapped by Crewe works the following month.
Peter Lee of the Nuneaton History Group and a member of the L&NWR Society, writes on the NHG's Facebook page, 'The photo in front is definitely a London & North Western Railway Class B Compound 0-8-0 but I am not quite sure from the slightly blurry number plate whether it is 2557 of this class or 2567 both were built and entered traffic in 1902 and both ended up in British Railways ownership but Nr. 2557 was cut up in 1948 whereas 2567 lasted until 1958. Nevertheless the loco seen here is in original form so the photo is taken after 1902 and before 1924 when both were rebuilt as Class G1's. (I favour a date before WW1, but that is a hunch).
The enginemen nicknamed these engines "Swammies" but even the rivet counting LNWR guru's cannot explain what this epithet referred to. Others have referred to them later as "Piano Fronts" because of the front inside cylinder chest looked distinctly like an old upright piano lid. (Maybe a favourite pub piano jangle at the time was the American tune Swannie River and somehow this passed with its piano front connotation into Railwaymen's vernacular, but that is pure speculation on my part as there might be a clash of dates when this song was hitting the music hall audiences and pub sing songs!)
There were some of these "B" Class allocated at Nuneaton but not at Coventry so this points to a Nuneaton engine. Beyond it is a Samuel Johnson designed Midland Railway 0-6-0 with its beautiful fluted safety valve cover.
Although the Coventry-Nuneaton line was a London & North Western owned branch line in its entirety the Midland Railway had secured running rights from about 1866 onwards so they could work over the newly opened Nuneaton-Hinckley-Leicester branch and run directly to Coventry. It could be their principal M.R. freight at this time in Bedworth goods yard was the beer traffic from Burton on Trent and van carried merchandise such as fertilizer, animal foodstuffs and other perishables, as coal traffic was best sent over their own metals to London and via Birmingham New Street to the West Country. Bedworth turned over a good quantity of ale back then.
Beyond the goods yard can faintly be discerned the outline of sheds, kilns and chimneys of a brickyard. Originally there had been a colliery on this site known as Bedworth Railway Colliery. It was once quite an extensive working with as many as seven shafts and was working by 1849, but it was abandoned officially in December 1891. In 1896 William Beasley Heap was running a brickyard from this address known officially as Bedworth Brick Tile & Timber Co. when it entered into a formal written agreement for a railway siding on 30th June 1900,. but it appears to have not traded beyond 1902, although I need to look into this in more detail, so it seems when this picture was taken it may have already closed and the buildings were abandoned. Mr. William Beasley Heap needs more research as he sounds like an interesting character'.
Jim Lodge of the L&NWR Society responds. 'The "Swami" nickname may have come from the designation used by popular theatre acts of the Victorian period. These were "magicians". fortune tellers. conjurors and the like, dressed in turbans etc, who emerged fron clouds of stage smoke or steam with arms folded at the start of their performance. A front view of a Webb 0-8-0 compound might have provided a suitable image to cause the adoption of the nickname'. Another member of the L&NWR Society, Stephen Lea writes, 'The dumb-buffer wagon indicates an early date, certainly before 1914'.

back