LMS Route: Trent Valley Line
Shilton Station: lnwr_shil2380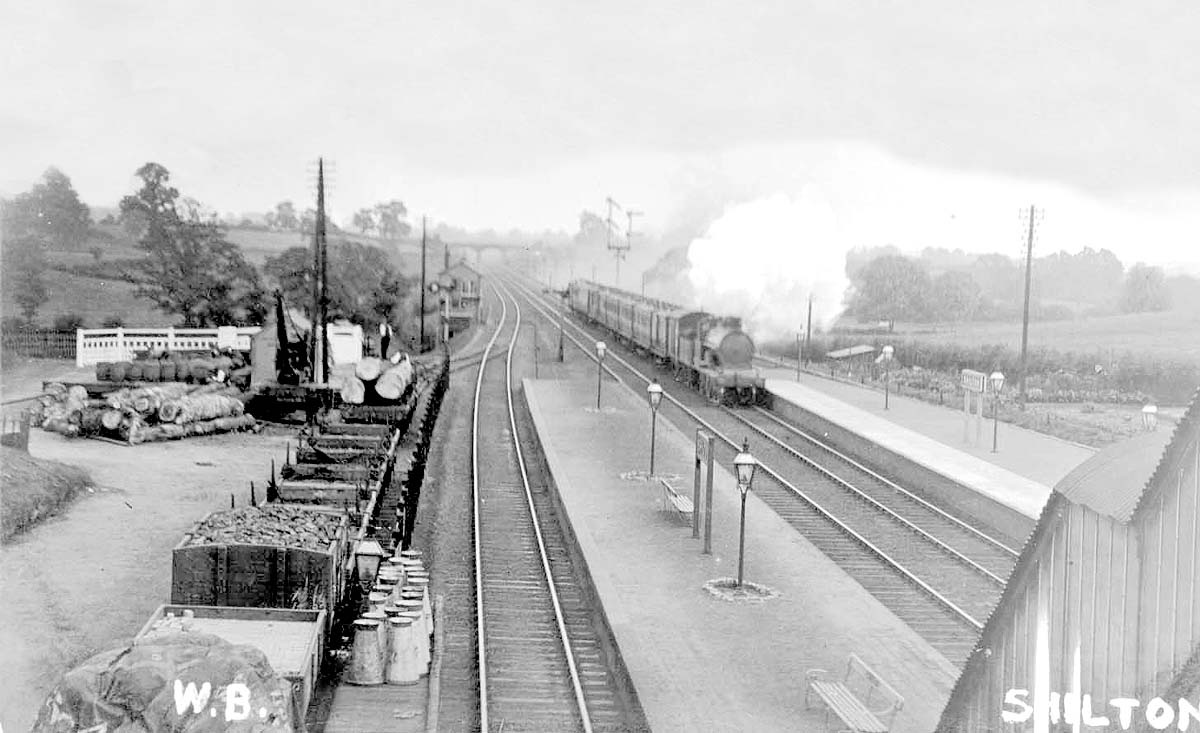 View along the up loop line from Church Road bridge with the siding on the left and No 1 signal cabin in the distance. Standing on the siding are several long flat wagons being used to move the tree trunks which can be seen on the left by the entrance to the yard. Adjacent to the wagon already loaded with tree trunks is a hand operated crane mounted on a wagon, itself standing on a short section of rails. The wagon already loaded with tree trunks will be moved forward to allow the wagon behind it to be moved adjacent to the crane for it too to be loaded. This process will then be repeated for the third and last wagon. To the right of the wagons in the foreground is a timber platform being used to transfer milk churns into the luggage compartments of local passenger trains. Behind the crane is the platform used for the cattle and vehicle docks. Close up examination shows this platform to full of barrels which was a common method of transporting a variety of goods other than just liquids.
I have checked various Working Time Tables from 1905 to 1913. The service was almost unchanged through this period, 6 up passenger trains and one local coal & goods. Of the Up pass trains, the 5/56 (4/0 ex Stafford) seems to take 2 minutes longer than the others from leaving Bulkington to leaving Shilton. This was the last up train of the day! The same might be said of the 7.34 (6.0 ex Stafford) but this is debatable 'cos of a conditional stop at Bulkington.
On Sundays from 1905 to 1915 the evening Chester to Euston milk called briefly at Shilton. From 1908 to 1911 (not 1905, 1913, 1915) the morning Holyhead to Rugby Express Goods "conveys milk from local stations to Rugby" also called. These were the only up trains to call on Sundays. In May 1919 much the same service operated, despite the disruption of the war. The 5/56 was now 6/9 and all trains had extended running times, presumably due to lack of track maintenance. The only up train to call on Sundays was the morning Crewe (not Holyhead) to Rugby Express Goods (conveys Milk); the evening milk train now ran through. There is nothing relevant in my extracts from the Passenger Traffic Committee minutes 1900-21, although these are incomplete after about 1911 and I have not yet searched thoroughly for the TV stations, so I may have missed something. Construction of the milk stage should have been authorised, but maybe it is pre-1900?

back